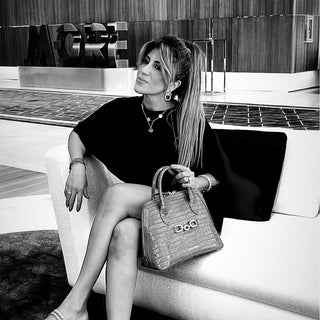 About Jemma Russo
Welcome to Jemma Russo, where women's clothing is elevated to a whole new level. Our garments are not just any ordinary pieces; they are crafted with utmost care and meticulous attention to detail, using high-quality cotton and fabrics. As the founder and designer, I am thrilled to share my journey of turning my dream into reality.

Inspiration struck me from an early age. Even as a child, I possessed a discerning eye and an appreciation for the beauty of clothes. I vividly remember designing my own prom dress—an exciting yet challenging endeavor. Selecting the perfect materials and creating a unique design, I entrusted a skilled seamstress to bring my vision to life. This experience ignited a fire within me, fueling my passion for fashion and propelling me towards the path of entrepreneurship.

At Jemma Russo, we operate with a clear mission and set of values. Our creations are not only exquisitely designed but also reflect an aura of elegance and sophistication. We prioritize the comfort and flattering fit for women who are constantly on the move, catering to individuals of all ages and sizes.

Pride is at the core of everything we do. We take immense pride in offering exceptional products and garments of unparalleled quality. Each piece is crafted using the finest cotton, sourced from some of the best suppliers in the world. Our manufacturing process involves working with top-notch creators, ensuring that every item that bears the Jemma Russo name meets our stringent standards.

But our mission goes beyond just delivering exquisite clothing. At Jemma Russo, we strive to empower women, helping them feel comfortable, confident, and stylish. Our collections are thoughtfully curated to celebrate the unique beauty and individuality of each woman who adorns our designs.

So, come and explore our website, immerse yourself in the world of Jemma Russo. Discover the variety of collections we have carefully curated for you. It's time to embrace your style, elevate your confidence, and embark on a journey of self-expression. Welcome to Jemma Russo, where fashion meets empowerment.
-Jamila